BUSTED! JOURNALIST DANIEL GLICK EXPOSED BY PRIVATE INVESTIGATOR. "Because the truth isn't always profitable" - The Story Group Ethics Alert Author
By Michael Roberts of Rexxfield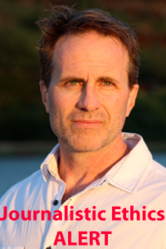 PRIVATER INVESTIGATOR MICHAEL ROBERTS' RESPONDS TO INACCURATE ARTICLE, "I MARRIED A MURDERESS," PUBLISHED ON APRIL 20, 2013 IN THE SYDNEY MORNING HERALD
"Although it is somewhat torturous to read, Michael's logical analysis of Glick's article is a masterpiece."
~JBS
How this response works:
Text displayed in BLACK or
RED
is the original story as published (after the article title below). The BLACK text is content that does not require a response;
RED
text represents Glick's lies, spin or innuendo for which a response is demanded.
NOTE: To avoid confusion, the article excerpts are all italicized and indented just like this,
with challenged excerpts in red.
Text displayed in
BLUE express my response to each published lie
.
Response to: "I MARRIED A MURDERESS" by Daniel Glick
Published Date April 20, 2013 Sydney Morning Herald


On the surface, it's a straightforward enough scenario: an Aussie dad locked in an international custody battle with his homicidal American ex-wife. But as Daniel Glick discovers, the truth is a whole lot murkier.
A combination of logical fallacies were used by journalist Daniel Glick in the above article summary as described below:
(1)
APOPHASIS AND ARGUMENT BY INNUENDO
a.
APOPHASIS AND ARGUMENT BY INNUENDO
involves implicitly suggesting a conclusion without stating it outright. In this example the overly specific nature of the innuendo. The structure of the fallacious argument looks like this:
a.
Michael Roberts is somehow suspect, even though Daniel Glick does not make (or justify) a direct statement of accusation.
a.
The innuendo has no supporting evidence except for other logical fallacies such as an appeal to authority, and guilt by association.
b.
Whereas, I implicitly told Daniel Glick during the interview that "the truth behind the story is incredibly convoluted". Daniel Glick's use of the word "discovers" implies that he is responsible for his revelations. Whereas, he did not discover the truth, he simply verified my contention that the case is convoluted (i.e. "Murkier").
c.
MOTIVE: Daniel Glick needs the reader and his editor to believe that he discovered something new to validate his status as an "Investigative Journalist" and to justify the fee paid to him for the story.
a.
AN APPEAL TO AUTHORITY, also known as an argument from authority (Latin: argumentum ad verecundiam), it is argued that something is true; because someone of authority (like an investigative journalist) says it is true.
a.
Daniel Glick says X is true
b.
Daniel Glick is an authoritative source
a.
Daniel Glick and his Editor Ben Naparstek have, according to evidence published by peers, demonstrated a propensity to publish lies and what peers describe as "hatchet pieces" and/or "inaccurate attack pieces"


a.
AN ASSOCIATION FALLACY is an inductive informal fallacy of the type hasty generalization or red herring, which asserts that qualities of one thing are inherently qualities of another, merely by an irrelevant association. It is sometimes referred to as guilt by association. Association fallacies are a special case of red herring, and can be based on an appeal to emotion.
a.
Michael is associated with the Richter Murder case
b.
Michael is also associated with the Zuckerman case, which is "murky"
c.
Therefore, Michael's character must be murky.
a.
What is true of one thing is not necessarily true of the other.